School Management Software in Nigeria Free For Nursery, Primary and Secondary Schools – Abuja, Lagos
School Management Software  System Portal For Nursery, Primary and Secondary Schools in Nigeria – LAGOS, ABUJA, PORT HARCOURT.
So many school principals and headmasters have testified to the awesomeness of this software that it meets their school requirements, nice comments from parents, and good technical support.
Watch this demo and contact us today
We are currently running a promo that will amaze you
Free School Website for Nursery , Primary and Secondary schools
Download Results in PDF and broadsheet in A3 pdf
Reduction in school administration running cost.
* Increase in school administration efficiency and efficiency.
* Easy students  admission process.
* Online database of results, students and teachers .
* Easy class management.
* Online results checking for student and parent.
* Email and SMS alert for parent and student.
* Online Assignment(Admin can post assignment online for students)
Contact us today, we can adjust it to your school preference.
http://www.webguru.com.ng/
Calls: +2349027622692
Email:   webguru.com.ng@gmail.com ; enquiry@webguru.com.ng
School Software Result Sample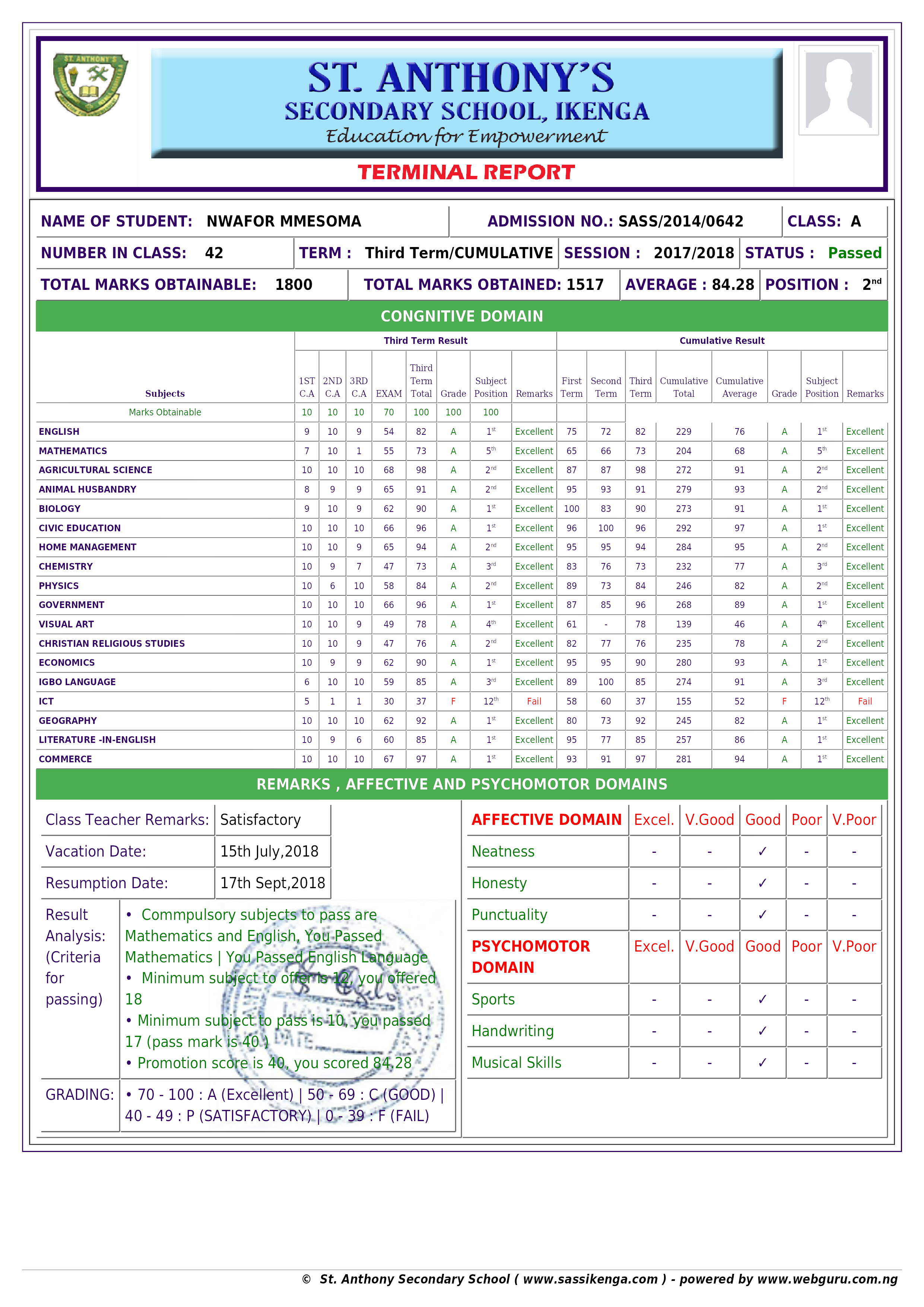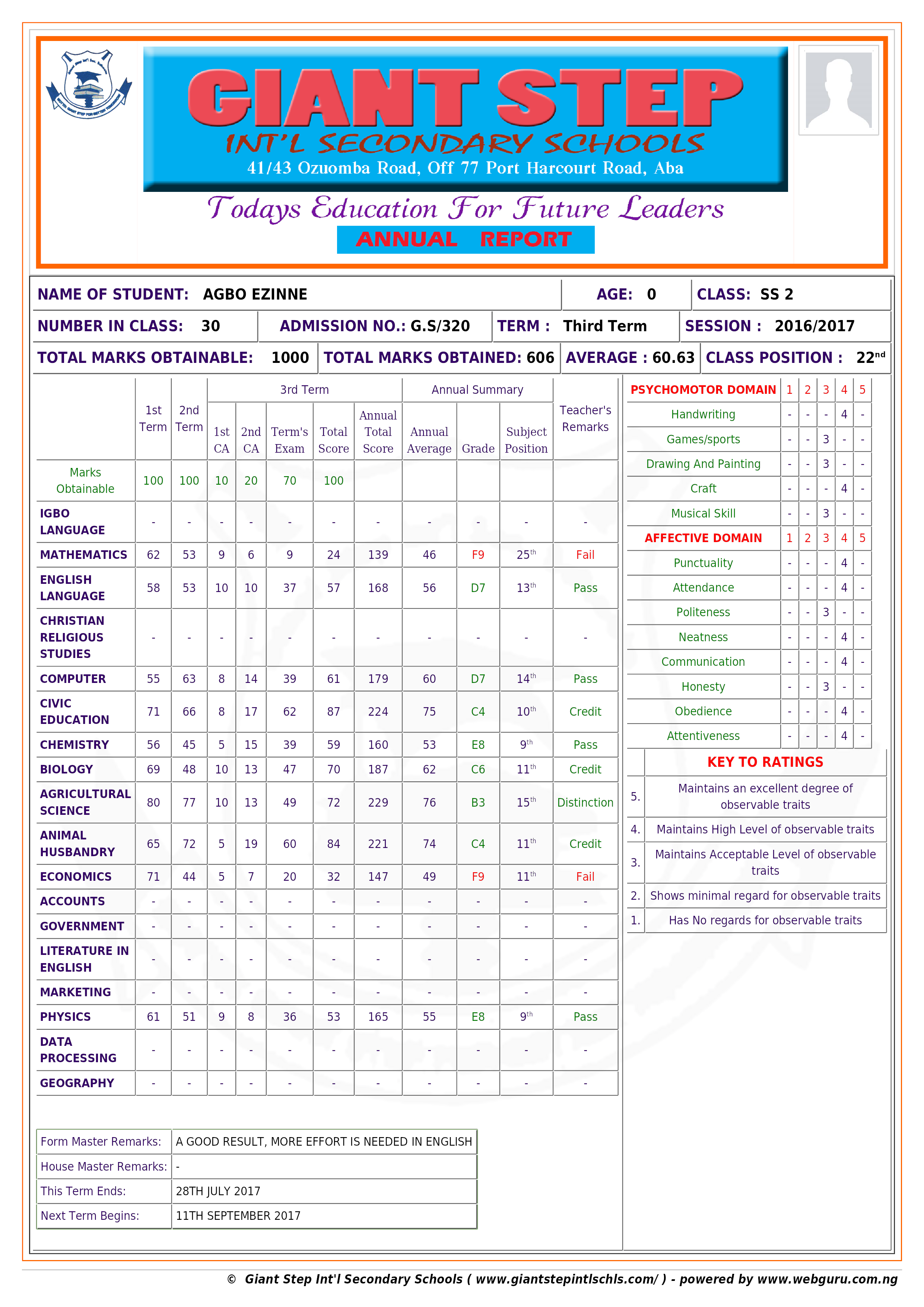 BROADSHEET SAMPLE
ANOTHER BROADSHEET SAMPLE
DASHBOARD
ONLINE VIDEO DEMO:
Watch these video demo and see all awesome features and magnificent things we are offering you. We are second to none.
1.    Eportal for Parents to Login Demo:

2.     Results and Broadsheet Input and Generation Demo

3.     Students/Pupils Registration into Database Demo:

4.      Bulk SMS and customized emails to parents Demo:

5.     School fees payment and online receipt demo:

6.     Mobile Application Demo:

School management  software in portharcourt  for nursery, primary and secondary schools , universities, polytechnics, college of education, private university, free school website School manangement System in Asarama for nursery, primary and secondary schools , free website for schools Bane , Chokocho , Kono , Okobie , Onikwu , Umuakuru-Igbo , Cities and towns , Abalama , Abonnema , Ahoada , Ataba , Bonny , Bori City , Buguma , Elele , Emohua , Igrita , Igwuruta , Nkoroo , Odiabidi , Okrika , Omoku , Onne , Opobo , School manangement Software free in Port Harcourt for nursery, primary and secondary schools and free school website , Rumuokoro , LGA(s) Abua–Odual , Ahoada East , Ahoada West , Akuku-Toru , Andoni , Asari-Toru , Bonny , Degema , Eleme , Emohua , Etche , Gokana , Ikwerre , Khana , Obio-Akpor , Ogba–Egbema–Ndoni , Ogu–Bolo , Okrika , Omuma , Opobo–Nkoro , Oyigbo , Port Harcourt , Tai , School management Software in Aba for nursery, primary and secondary schools and free school website , Abakaliki , Abeokuta , School management website in Abuja for nursery, primary and secondary schools and free school website , Ado Ekiti , Agege , Akpawfu , Akure , Asaba , Awka , Bauchi , School management system in Benin City for nursery, primary and secondary schools and free school website , Birnin Kebbi , delta state,  School management Software free in Calabar for results generation, broadsheets, send bulk sms to parents, attendance, exams, Dutse , Eket , School management software in Enugu with free school website , software to manage school, Gombe , Gusau , what software are schools using in Ibadan for results generation, broadsheets, send bulk sms to parents, attendance, exams, Ifelodun , Ife , School website in Ikeja with free school software management free, software to manage school , Ikirun , Ikot-Abasi , Ikot Ekpene , Ilorin , Iragbiji , Jalingo , Jimeta , Jos , Kaduna , Kano , Katsina , Karu , Kumariya , Lafia , Lagos , Lekki , Lokoja , Maiduguri , Makurdi , Minna , Nsukka , Offa , Ogbomoso , Onitsha , Okene , Ogaminana , Omu-Aran , Oron , Oshogbo , Owerri , Owo , Orlu , Oyo , Port Harcourt , Potiskum , Sokoto , Suleja , Umuahia , Uyo , School management system in Warri , Wukari , Yenagoa , Yola , Zaria, lagos,benin city, nigeria
School management software in portharcourt for nursery, primary and secondary schools , universities, polytechnics, college of education, private university, free school website School manangement System in Asarama for nursery, primary and secondary schools , free website for schools Bane , Chokocho , Kono , Okobie , Onikwu , Umuakuru-Igbo , Cities and towns , Abalama , Abonnema , Ahoada , Ataba , Bonny , Bori City , Buguma , Elele , Emohua , Igrita , Igwuruta , Nkoroo , Odiabidi , Okrika , Omoku , Onne , Opobo , School manangement Software free in Port Harcourt for nursery, primary and secondary schools and free school website , Rumuokoro , LGA(s) Abua–Odual , Ahoada East , Ahoada West , Akuku-Toru , Andoni , Asari-Toru , Bonny , Degema , Eleme , Emohua , Etche , Gokana , Ikwerre , Khana , Obio-Akpor , Ogba–Egbema–Ndoni , Ogu–Bolo , Okrika , Omuma , Opobo–Nkoro , Oyigbo , Port Harcourt , Tai , School management Software in Aba for nursery, primary and secondary schools and free school website , Abakaliki , Abeokuta , School management website in Abuja for nursery, primary and secondary schools and free school website , Ado Ekiti , Agege , Akpawfu , Akure , Asaba , Awka , Bauchi , School management system in Benin City for nursery, primary and secondary schools and free school website , Birnin Kebbi , delta state, School management Software free in Calabar for results generation, broadsheets, send bulk sms to parents, attendance, exams, Dutse , Eket , School management software in Enugu with free school website , software to manage school, Gombe , Gusau , what software are schools using in Ibadan for results generation, broadsheets, send bulk sms to parents, attendance, exams, Ifelodun , Ife , School website in Ikeja with free school software management free, software to manage school , Ikirun , Ikot-Abasi , Ikot Ekpene , Ilorin , Iragbiji , Jalingo , Jimeta , Jos , Kaduna , Kano , Katsina , Karu , Kumariya , Lafia , Lagos , Lekki , Lokoja , Maiduguri , Makurdi , Minna , Nsukka , Offa , Ogbomoso , Onitsha , Okene , Ogaminana , Omu-Aran , Oron , Oshogbo , Owerri , Owo , Orlu , Oyo , Port Harcourt , Potiskum , Sokoto , Suleja , Umuahia , Uyo , School management system in Warri , Wukari , Yenagoa , Yola , Zaria, lagos,benin city, nigeria